Attached you will find a range of links to books, websites, podcasts & articles that may be of interest to you. The sites & articles focus on a wide range of educational and parenting issues and touch on many of the challenges and joys we face as parents and teachers.

Enjoy,

Steve
Sisu: The Finnish art of inner strength ​
Happy Families
The Happy Families podcast with Dr Justin Coulson is for parents who want all the answers but don't have any time! In each short, easily digestible episode Dr Justin will address a specific topic, offer his expert advice and provide simple strategies that will lead to positive results fast. Dr Justin's podcast is the quickest way to gain the knowledge and information you need to make your family happier today.


Books for the Soul
At OLHC we recognise that the well-being of our children is something we need to continually pay attention to. To this end we would like to offer a collection of titles/books that parents may wish to borrow from us and read at home. The intention is to simply provide another avenue for parents to gain support and ideas...or maybe just share a beautiful book.
​
Regards,
Steve
Hey Warrior

A book for kids about anxiety. Kids can do amazing things with the right information. Understanding why anxiety feels the way it does and where the physical symptoms come from is a powerful step in turning anxiety around.
​Anxiety explained, kids empowered.
What Do You Do With a Problem?
What are problems for?

​They challenge us, shape us, push us, and help us discover just how strong and brave and capable we really are.

So, what will you do with your problem?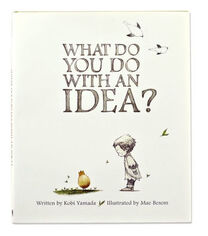 What Do You Do With An Idea
​What do ideas become? Big things, brave things, smart things, silly things, good things.Things like stories, artwork, journeys, inventions, communications, products, and cures.
Everything you see around you was once an idea.

So what will become of your idea. Now that's up to you.
Hey Awesome
If kids with anxiety could see their strengths, they would feel so much bigger than their anxiety.

They would feel bigger than everything - as though a tiny, tip-toed stretch could have them touching the top of the world from where they are.

This book is a reminder for all kids that everything they need to be brave, strong and brilliant is already in them. Hey Awesome contains excellent strategies for establishing calm when emotions are heightened and building mindfulness to forget about tomorrow's worries.
We Are Family.
All families are different - and yet in many ways the same! This book uses a gentle rhyming text to follow eight different families, celebrating their everyday differences as well as the similarities they share.
Natural Born Leader / Loser.
Topics of self talk and reflection, self evaluation, pride, teamwork and of course leadership change.
Natural Born Leader/ Loser is an excellent novel for our seniors that explores personal benefits of leadership skills. A boy who sadly saw himself as nothing more than a follower but finds himself being much more in the efforts to improve his school.
Wellbeing Reads
Parents and families, our ever growing library of literature covers many topics including:
Fiction picture books promoting gender equality.
Culture and Human Rights.
Families.
Non - Fiction biographies of inspirational role models.
Puberty.
Bullying.
Leadership and social skills.
Feelings including anxiety.

These resources provide families with an excellent segue into healthy discussions about sensitive topics for children. By using the familiar routine of sharing books, a less formal approach is developed, fostering a respectful dialogue. Some of the books have been placed into the following groups.
​resilience
differences
friendships
family
Podcasts

Peaceful Parenting: Interview with Author and Parenting Expert Dr. Laura Markham​
Parenting expert and multiple best-selling author Dr. Laura Markham breaks down the three keys to successful parenting, how to properly model emotions and conflict resolution, and the coveted recipe for raising happy, resilient kids.
Clips & Websites
​
Articles
​